Bloom is excited to welcome our LIVE! and Online Personal Make-up Lessons. Each session is extremely personalised, customisable and LIVE! with our head trainer, Roseanne Tang on Zoom! Think our well-loved make-up lessons brought to you in the comfort of your own home. Learn at your own pace and in your own surroundings with Roseanne who will be guiding you every step of the way.
Had an online session with Roseanne on basic eyeshadows! She was really nice and shared a lot of tips with me and answered all my weird questions too😂 She tried to tweak the session to cater my needs more which was superb! Thank you again Roseanne❤️

– Steffi Hia, Basic Eyeshadow LIVE! Online Class Student
Our LIVE! Online Booking and Lesson Process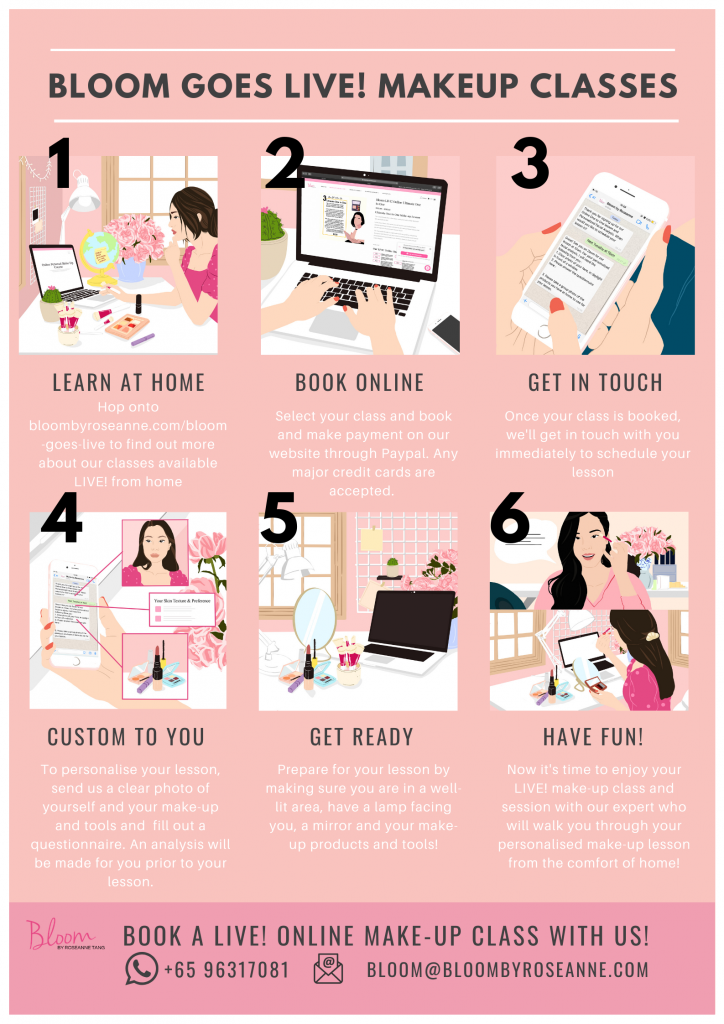 View our Classes Available LIVE!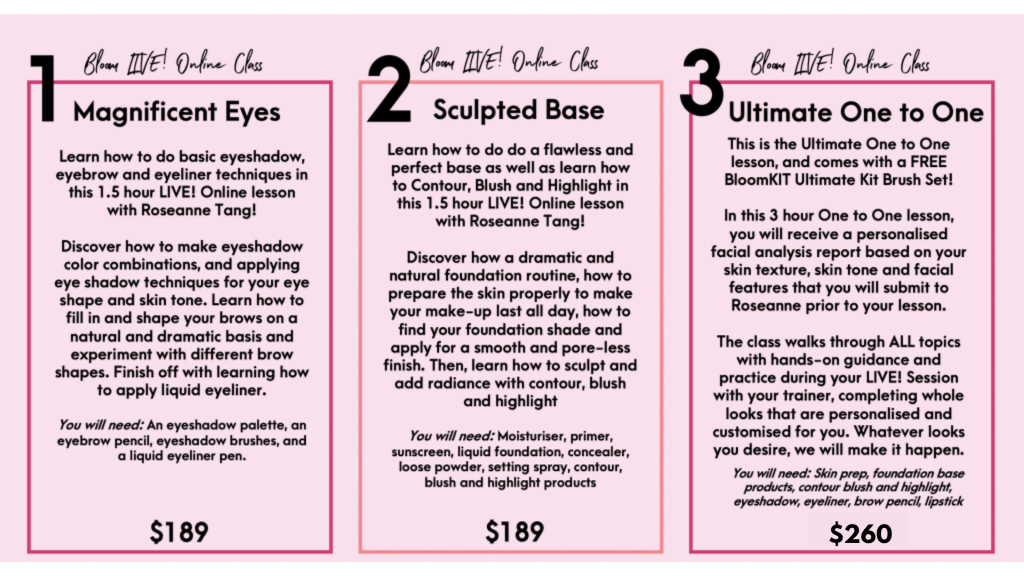 1.) LIVE! Online Make-up Class: Magnificent Eyes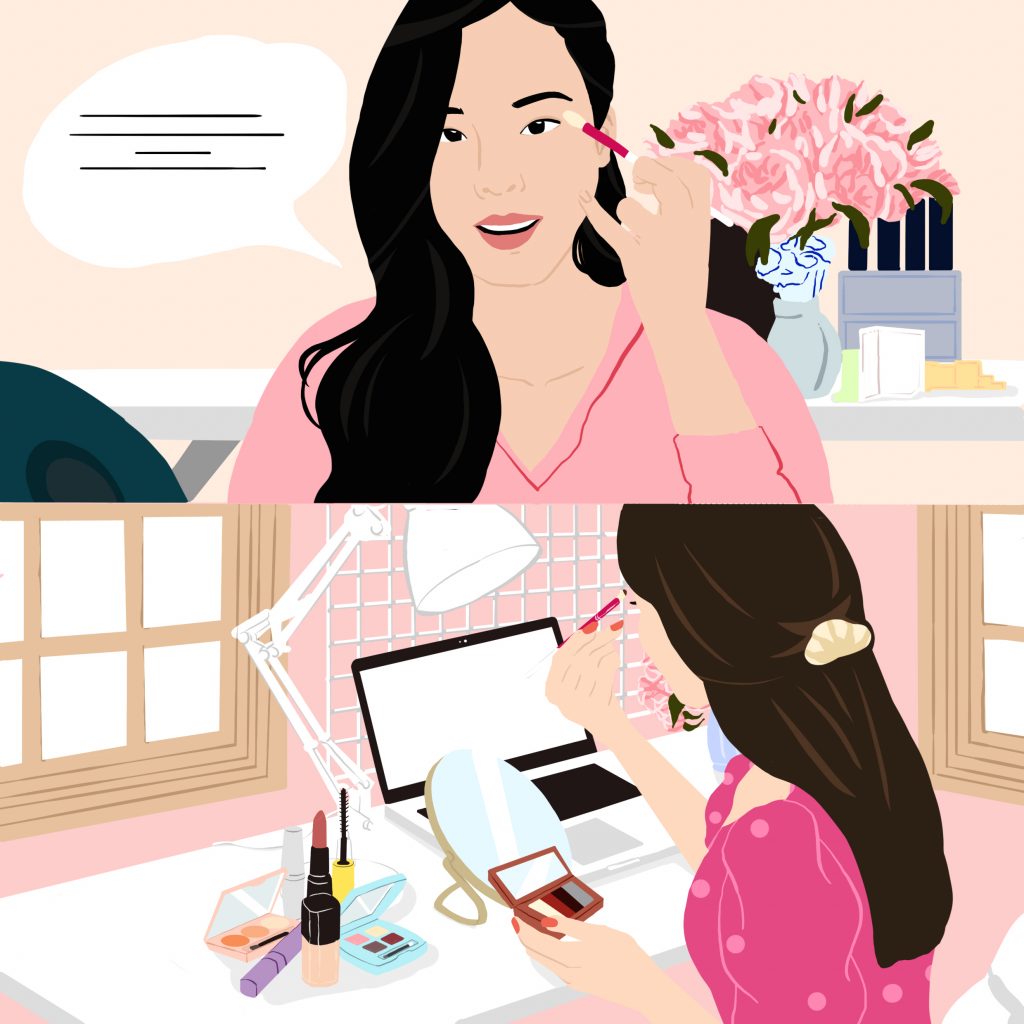 Learn how to do basic eyeshadow, eyebrow and eyeliner techniques in this 1.5 hour LIVE! Online lesson with Roseanne Tang!
Discover how to make eyeshadow color combinations, and applying eye shadow techniques for your eye shape and skin tone. Learn how to fill in and shape your brows on a natural and dramatic basis and experiment with different brow shapes. Finish off with learning how to apply liquid eyeliner.
You will need: An eyeshadow palette, an eyebrow pencil, eyeshadow brushes, and a liquid eyeliner pen.
2.) LIVE! Online Make-up Class: Sculpted Base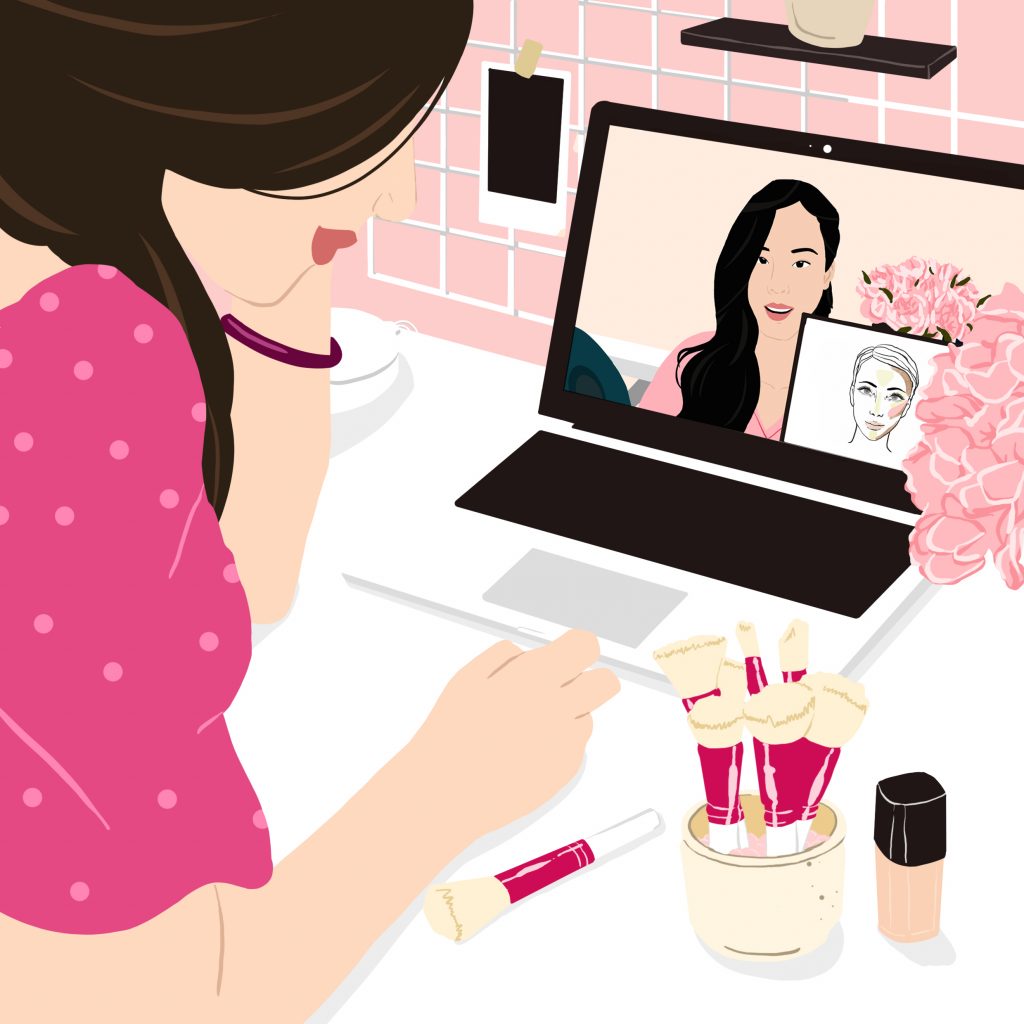 Learn how to do do a flawless and perfect base as well as learn how to Contour, Blush and Highlight in this 1.5 hour LIVE! Online lesson with Roseanne Tang!
Discover how a dramatic and natural foundation routine, how to prepare the skin properly to make your make-up last all day, how to find your foundation shade and apply for a smooth and pore-less finish. Then, learn how to sculpt and add radiance with contour, blush and highlight
You will need: Moisturiser, primer, sunscreen, liquid foundation, concealer, loose powder, setting spray, contour, blush and highlight products
3.) LIVE! Online Make-up Class: Ultimate One to One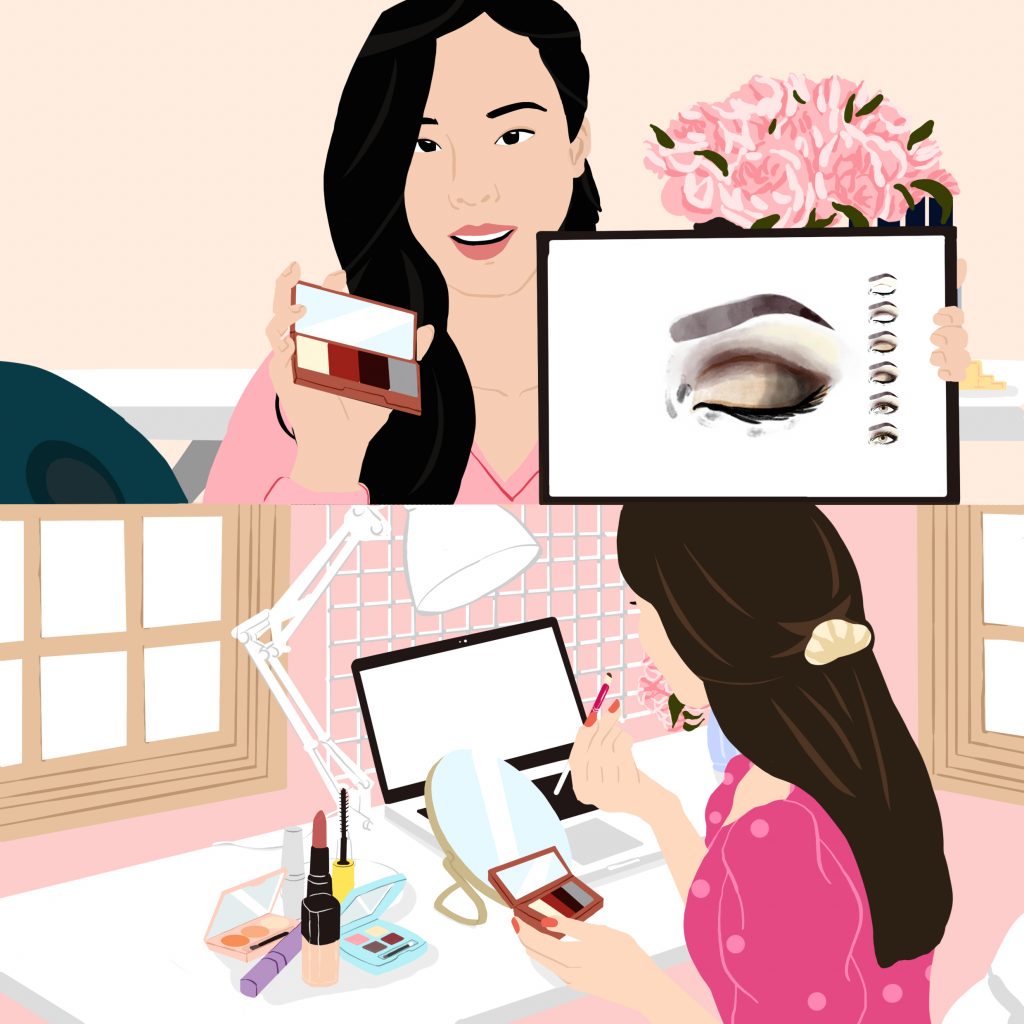 This is the Ultimate One to One lesson, and comes with a FREE BloomKIT Ultimate Kit Brush Set!
In this 3 hour One to One lesson, you will receive a personalised facial analysis report based on your skin texture, skin tone and facial features that you will submit to Roseanne prior to your lesson.
The class walks through ALL topics with hands-on guidance and practice during your LIVE! Session with your trainer, completing whole looks that are personalised and customised for you. Whatever looks you desire, we will make it happen.
You will need: Skin prep, foundation base products, contour blush and highlight, eyeshadow, eyeliner, brow pencil, lipstick
LIVE! Online Trial Class Promotion! $39 per pax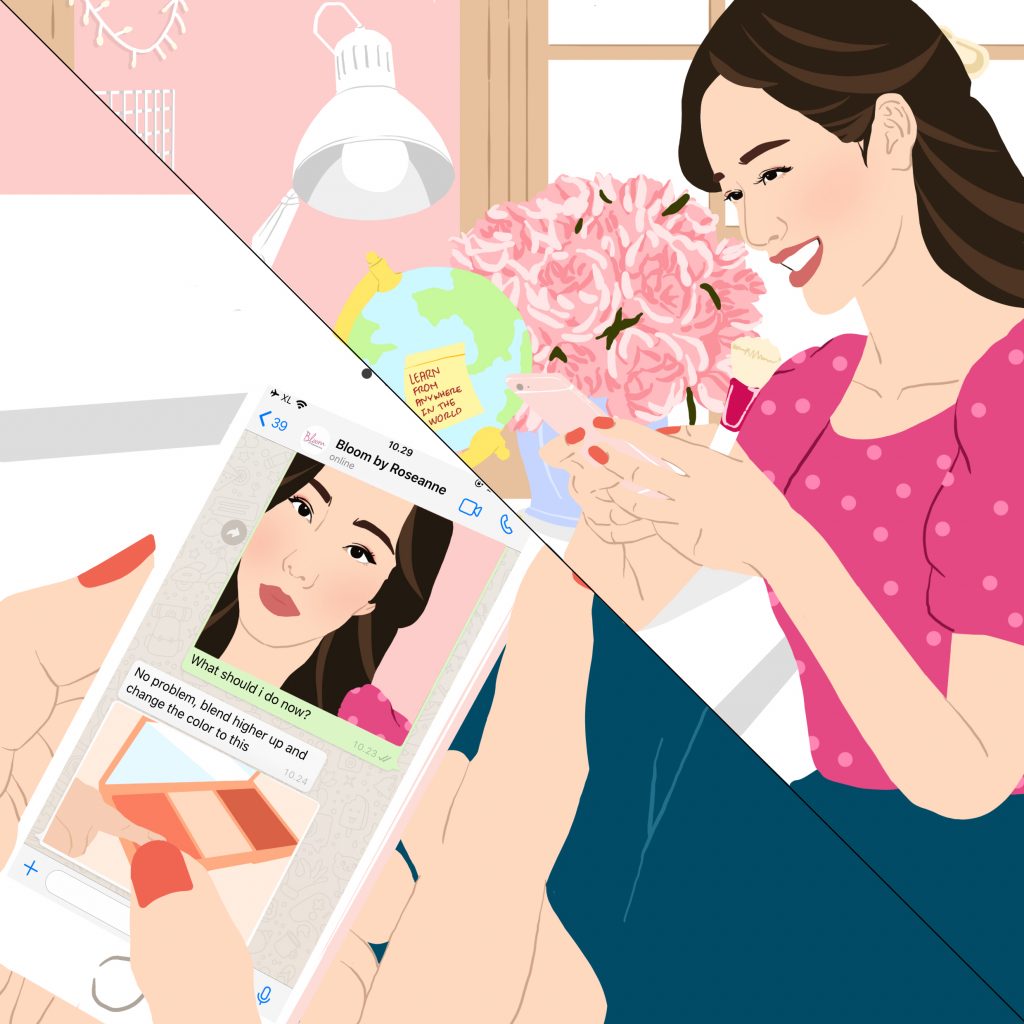 Take a trial class! Take a Basic Eyeshadow LIVE! Online Learning Session at only $39 per pax (UP $88!).

In this One to One LIVE! 30 minute Online Eyeshadow class with Roseanne, learn Roseanne's basic eyeshadow techniques that she teaches in the studio, how to pair different colour combinations to suit your skin tone and how to apply eyeshadow with professional techniques. Learn two basic eyeshadow techniques that you can use on an everyday basis and finally make sense of eyeshadow palettes you have at home!

You will need: at least one eyeshadow palette, eyeshadow brushes inclusive of an eyeshadow blending brush and concealer.

Don't miss out on this amazing once in a while offer!
Frequently Asked Questions
Which online software will you be using to conduct the classes?
We will be using Zoom! Please have your Zoom account ready to go for your session
What do I need to prepare on the day of the LIVE! Session
You will need to have your laptop with camera ready to go, a well-lit area and preferably a desk lamp with a white bulb or ring light facing you. Have your brushes and make-up ready to go for your LIVE! session!
Will the LIVE! sessions be as good as in studio?
YES! We have specially designed these LIVE! sessions to be just as detailed and in depth. We have a whiteboard to show you where to place the make-up and can show you presentations during your class. We will also be able to see clearly exactly what you are doing right and wrong and help correct it with special keywords that you will clearly understand. Best yet, you will be LIVE! with Roseanne Tang wherever you are in the world and can ask her all your make-up questions!
What if I don't have make-up or brushes available?
We are able to offer you a discount on our BloomKIT brush set that can be delivered to you next day if you are in Singapore! Otherwise we will also be messaging you prior to your class to see what we can do with your make-up stash. It will be a great learning experience.
How will I know that the class is customised for me?
Other than being a LIVE! session, not a stagnant make-up online course, you will be asked to send in a photograph of yourself, fill in a small questionnaire and take a picture of your current make-up collection – information that will be used to create an in depth report by Roseanne to see the colours and products that suit your skin texture, type and tone the best. Refer to our process above to find out more information!
Great! How do I book a LIVE! Online Make-up Class?
Simply make the booking on our website through Paypal. Once done, we will message you over Whatsapp or via email to schedule in your session with us! We are so excited to meet you online and in the safety and comfort of your own home!
Why take a LIVE! Online Make-up Class?
Learn a personalised make-up routine that is customised for you in the comfort and safety of your own home
Figure out and discover what you can do with your current make-up stash
Learn something totally new, anywhere you are in the world!